Toilet Paper Cutting Machine ( Band Saw) is the auxiliary equipment for the toilet paper machine and facial folders. It can cut the toilet rolls and facial tissue into the desired length or width. The  cutter machine is able to automatically sharpen the blade, and the cutting table is movable to facilitate the cutting, making it a stable running and high efficiency machine for the production of toilet rolls and facials.
Featured Ean Toilet Cutting Machine For Sale
Manual Band saw cutting machine for toilet paper roll

Paremeters:
Model: EAN-TPC-01  
Finished product's size: Ø 250 mm(maximum),length is within 300 mm
Size of raw material: Ø 250 mm(maximum) *1760 mm
Processing capacity: 800kg/shift
Power: 380V,50HZ,2.2KW
Weight: 400kg
Size: 2000 mm*600 mm*1600mm
Full-automatic band saw cutting machine for sale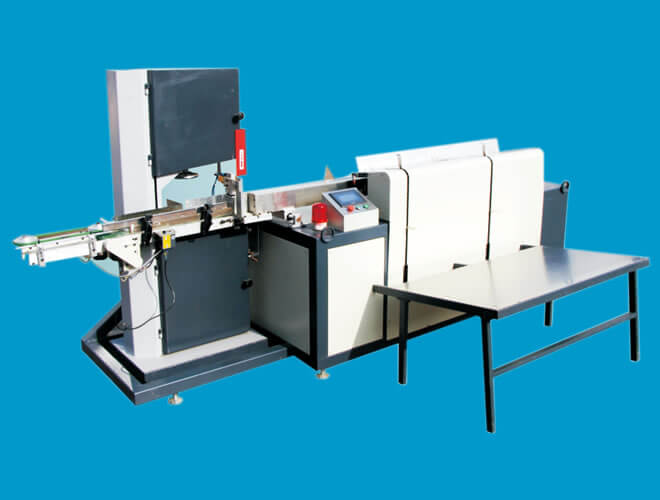 Model: EAN-TPC-02  
Material Length: 0~300mm (can be customized)
Raw material diameter: 65mm~130mm
Waste Paper Size: To Be Set
Product dimension error: 1mm
Control system: PLC control, servo drive, touch screen operation
Cutting swing structure: Cam structure
Production Speed: 52~100 cut/min
Power configuration: AC380V 50HZ
Required air pressure: 0.5Mpa
Weight: 1100Kg
Features Of Ean Tissue Paper Cutting Machine
1.Ean tissue paper cutting machine use beeline bearing and make worker operation it can save labor and more easy.
2.The paper cutter machine use the guard unit and improve the machine security.
3.The suitable material can be tissue roll, non-woven fabric, airlaid paper and so on.
4. Belt drive, web tension control device and pneumatic rewinding shaft.
5. The toilet paper cutting equipment can be equipped with automatically load jumbo roll unit according to customers demand.
How To Purchase Toilet Paper Cutting Machine From Ean Machinery
If you want to get tissue cutting machine price and more detailes, Please leave your requirement now, We will reply you in 12 hours.
Save
Save
Save
Save